Looking for a Smart WiFi Thermostat for your RV?
One that is a direct swap, easy install to upgrade your Dometic or Coleman RV AC Thermostat, no need to experiment with converting a home thermostat to a 12 volt Thermostat for your RV?
One that you can monitor and operate from your cell phone?
In this article, we will explore the benefits of upgrading to a Smart WiFi Thermostat for your RV.
We'll also discuss special features that you may not be aware of.

Convenience and Remote Control
The ability to control, check the temperature, and see the current settings of your RV WiFi Thermostat from a remote location is a huge convenience and peace of mind.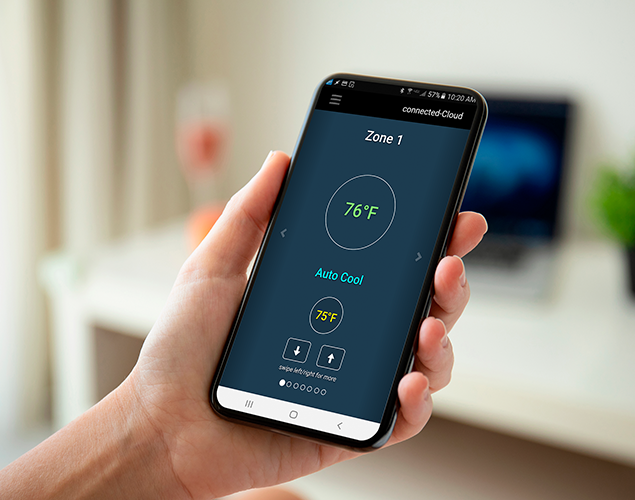 Using your cell phone, you can open an App and see the current settings of your thermostat. You can also change the Mode, Temperature Set Point, and Alerts. This level of control makes it as convenient as using top-notch RV entertainment systems, providing comfort and entertainment wherever you are.
Maybe you left for the day and forgot to turn the AC up from the nighttime settings. RVs can get hot and cold very quickly, no need to get up and change the temperature several times a day.
There's nothing better than being able to turn on the Heat on those cold mornings without getting out of bed or maybe you want to cool down the RV before you arrive.
Alerts
Using the phone App, you can set an Alert to notify you if the temperature in your RV is too hot, or too cold.
For example, you would want to get an Alert if the campsite power went out, or your AC compressor failed, or the genny failed to auto-start.
Pet Safety
If you have any Pets in your RV, you will surely want to know if something happens with the Heating or AC systems. See other ways for RV temperature monitoring.
Let your Smart RV WiFi Thermostat act as a Pet Temperature monitor.
You can set an Alert that will be sent to you, and also to a friend/neighbor, or even the campsite main office, in case your phone is out of range, or maybe you never heard the alert.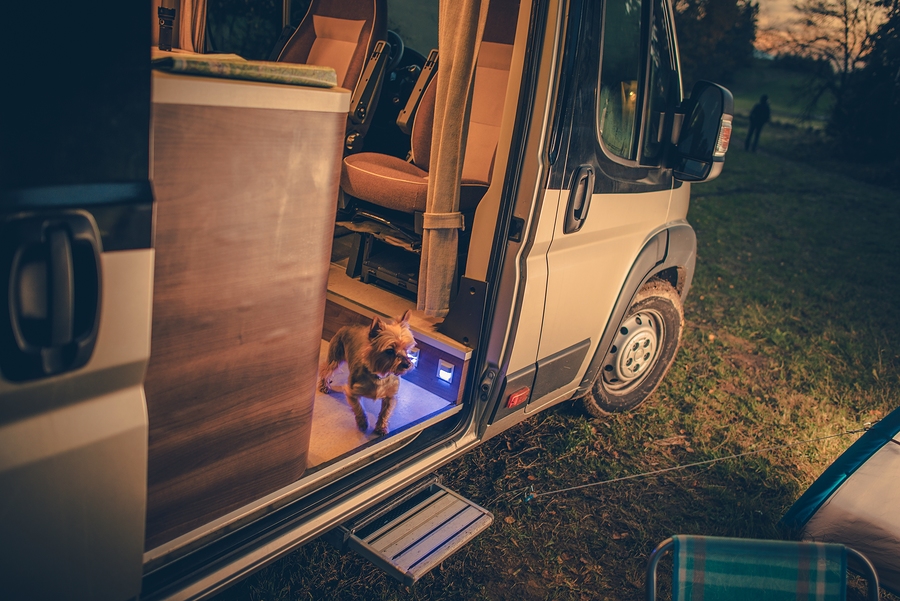 Energy Efficiency
It's well known, the largest energy-consuming devices in our Home and RV are the Heating and Air Conditioning Systems.
See statistics here.
For this reason alone, a Smart RV Thermostat upgrade can pay for itself very quickly.
Statistically, you can save between 10% – 15% on your electric bill just by setting your thermostat while you are away.
In an RV, once you leave for the day, and forget to set the thermostat, you may not want to go back just to change it.
Wouldn't it be great to set it from your cell phone?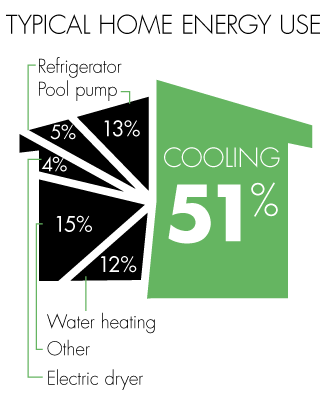 It's not just the campsite electricity you are saving, it's the gas or diesel needed to run the best RV generator when not on shore power.
Security
Security can be another great feature in an RV Smart Thermostat.
With an optional wireless sensor attached to the door or window of your RV, you can know if someone has opened the door while you're away, or asleep.
The wireless sensor would communicate back to the WiFi thermostat if the door was opened, or left open for a certain period of time.
The thermostat could also be set to make a short beep every time a door is opened during certain hours.
Water Leak Detection
If your RV WiFi Thermostat also has a Humidity sensor, you can get an Alert if the humidity level starts to rise.
This can be a great feature if you park your RV for the off-season, and maybe a leak develops when it rains, or a water pipe is leaking due to high water pressure. Many campsites can have high water pressure.
You will be able to see a graph of the humidity rising and go check it out, saving potentially costly repairs from the water damage.
The Smart Thermostat will have an internal battery that lasts for months and can be set to wake the thermostat up periodically to take temperature and humidity readings that you can see on your cell phone app.
For a Smart Thermostat that has the features described here, check out our newest model here.
Cellular, Don't Rely on Campground Wi-Fi
Since the Smart Thermostat has its own Cellular Connection, you will not need to rely on campground Wi-Fi, your mobile hotspot, or any other Wi-Fi in the area.
This means your Wi-Fi Smart Thermostat will be a stand-alone, battery backed-up, HVAC, and Security Controller for your RV.
Also, unlike most Thermostats that only have Bluetooth, which means you can only connect to your thermostat if you are within 100 feet of your RV, a Wi-Fi Smart Thermostat will let you connect from anywhere in the world.
A True Programmable, Digital, 12 Volt Thermostat
Being a Smart Thermostat means it is has a digital display, and a digital thermostat lets you set and view precise temperatures, in fractions or decimals vs analog thermostats.
So, you will be able to see the same digital display (and controls) on the cell phone app as is displayed on the digital RV thermostat mounted on the wall; as well as see a graph of the 12 volt thermostat line voltage.
It is also fully Programmable, similar to a Home thermostat where it can go On and Off at certain times of the day.
There are many days in an RV it will be hot during the day, so you need the AC to cool things down. During nighttime hours, however, it can get chilly, so you may need the Furnace or Heat Pump to come on to maintain comfort.
This can be programmed easily by setting temperature ranges and schedules in the Phone App.
You can set a schedule that changes the target temperature at different times of the day, or set it to go On for x minutes, then Off, and repeat. This way you don't have to bother changing the set point while living in the RV, or maintain temperature and humidity while away from the RV. Call this "timed action".
In addition, you can also turn the system off completely, if you are away for weeks, but set the system to turn the AC on if the Humidity or Temperature gets too high. Call this "range action".
Voltage and Power Loss
Furthermore, since the Smart RV Thermostat works natively on 12 volts, in some configurations, it can monitor your RV's 12V thermostat line voltage, so you can see what is going on with your house battery and charging system.
You can also set Alerts when these voltages go out of range, or even if shore power is lost. In that case, the voltage would drop to the battery-only voltage of about 12.6 volts for x minutes, meaning the charging system may be off (or power loss).
Why not Upgrade to a Smart WiFi Thermostat for your RV?
Do the benefits described above make a great case for an RV thermostat upgrade?
If so, please check out our newest RV WiFi Thermostat, see links below.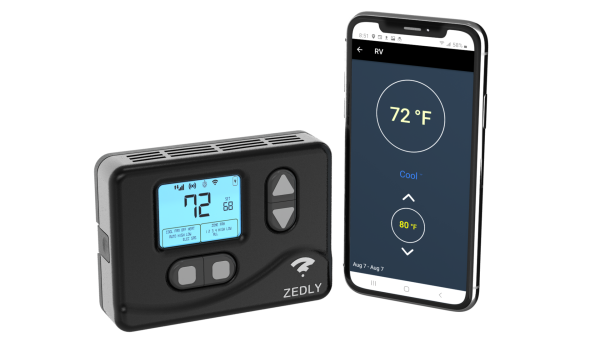 See More Specifications and Features Here.

We are taking Pre-Orders, Shipping Soon!
We are offering the Zedly RV Thermostat for $199 for those on the pre-order list.
(Regular price will be $249 once released)
A $4.95/mo subscription is required. Subscription can be bought in 3 month blocks if needed.
(Plan prices and details subject to change.)

We would love to hear your questions or feedback!

---
FAQs:
Can a House Thermostat be used in an RV?
No. House Thermostats work on a different voltage system than RV Thermostats. 12V DC versus 24V AC.
RV Thermostats may also have different wiring connections based on the make and model.
What is the Best RV Thermostat?
A Smart, Digital RV Thermostat with WiFi that lets you Remote Control it from your cell phone should be at the top of the list.
This gives you the most flexibility, and configuration features.
Can I Upgrade my Dometic or Coleman RV Thermostat
Yes, most Single Zone RV Thermostats are compatible with our Wi-Fi Smart RV Thermostat as a direct replacement, including Dometic 3-wire and Coleman 4-6 wire.
Is there a 12 volt WiFi Thermostat for RV?
Yes. We offer a 12 volt Thermostat compatible with most RVs.
---