New RV Temperature Monitoring System for Pet Safety, includes Humidity, and even Shore Power loss detect, and has built-in WiFi connectivity. Introducing Trakkit THS!
Many RVers have pets with them, and they can't always take them along when they leave for the day.
An RV pet monitor is exactly what you need. One where you can watch your RV temperature from your phone, no matter where you are, and using WiFi that you may already have in your RV.
Most RVers use a portable mobile hotspot for internet browsing. These hotspots allow many devices to connect to them, like laptops, mobile phones, etc. For those who want to ensure they always have power, consider the best RV generator.
Also, all mobile hotspots have internal batteries that they can run off instead of line power. So you should be able to receive alert data even if all power is lost in your RV.
Since Trakkit THS has WiFi built-in, it can also connect to your mobile hotspot to send the temperature/humidity data.
We will list the features and benefits of having Trakkit THS, an affordable RV Temperature Monitoring System with humidity, and even shore power loss detection.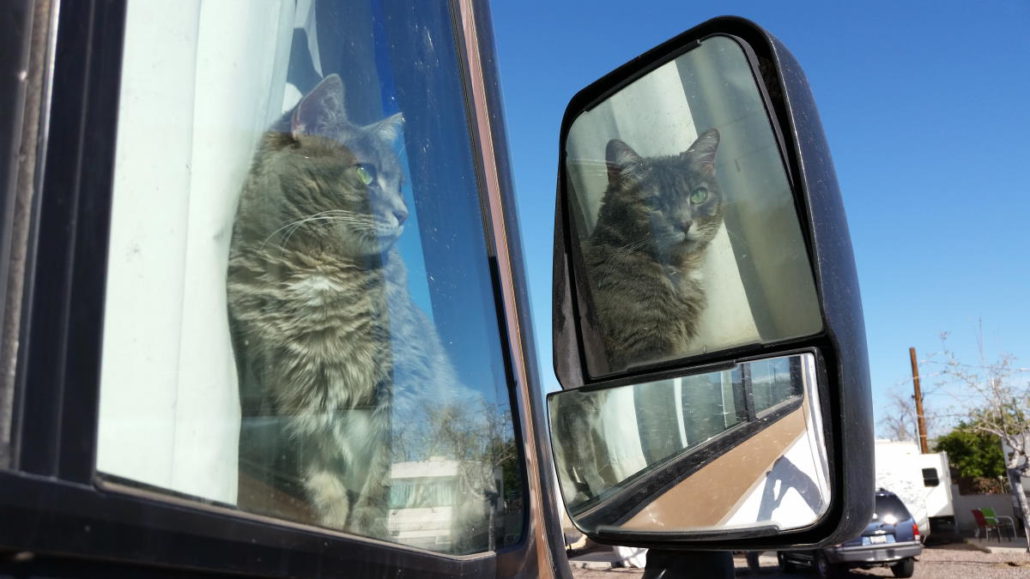 RV Pet Temperature Monitor (plus Humidity)
Use Trakkit THS and the app on your phone as an RV Thermometer System for the following benefits:
RV Pet Temperature Monitoring
Temperature & Humidity Graphs
High Humidity and Leak Detection
Alerts & Notifications (To Multiple People)
Trakkit will allow you to get alerts if the RV temperature is outside the limits you have set. You can send alerts to multiple people, so this can give you peace of mind knowing your pets are safe.
Alerts can even be sent to groups of people in case the first group does not respond.
Similar to alerts you would get with a tire pressure monitoring system for your RV.
You will get alerts if the WiFi gateway is down or any loss of communication with the sensor.
Temperature & Humidity Graphs
You will see a graph of the temperature and humidity ranges and peaks throughout the day/week, or month.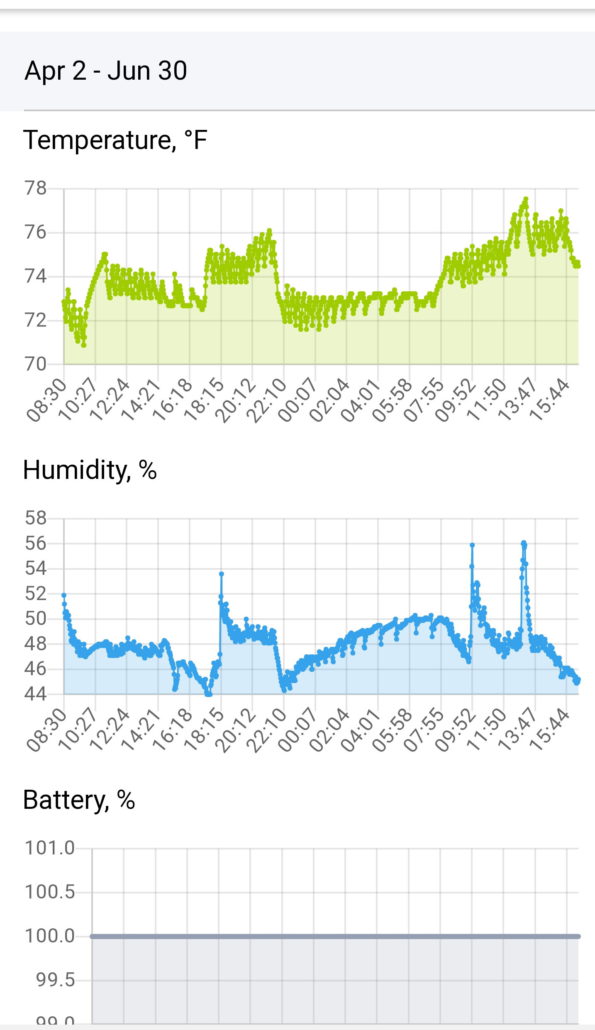 On the humidity graph, you may notice the humidity rise beyond its normal ranges. This may indicate a possible leak or burst water line in your RV.
You can also see the battery levels to know when it's time to change or just run the Trakkit sensor off of line power from the USB cable.
All of the features mentioned can be set to send an Alert to you via email, or SMS to 1 or more people.
Sending alerts to multiple people can be a great redundant feature. For example, you could set an alert to go to the campground front office in the event nobody responded to previous alerts.
An Alert can even be sent if your temperature sensor has not "checked in" within its normal timeframe.
RV Power Monitoring System
Trakkit THS runs on external Line power via the micro USB cable (included) as well as internal batteries. In fact, it's as essential to an RV as quality RV entertainment systems are for on-road enjoyment.
If you have a 110V receptacle in your RV that runs directly off of shore power (not the inverter), then you can monitor shore power loss events when they happen.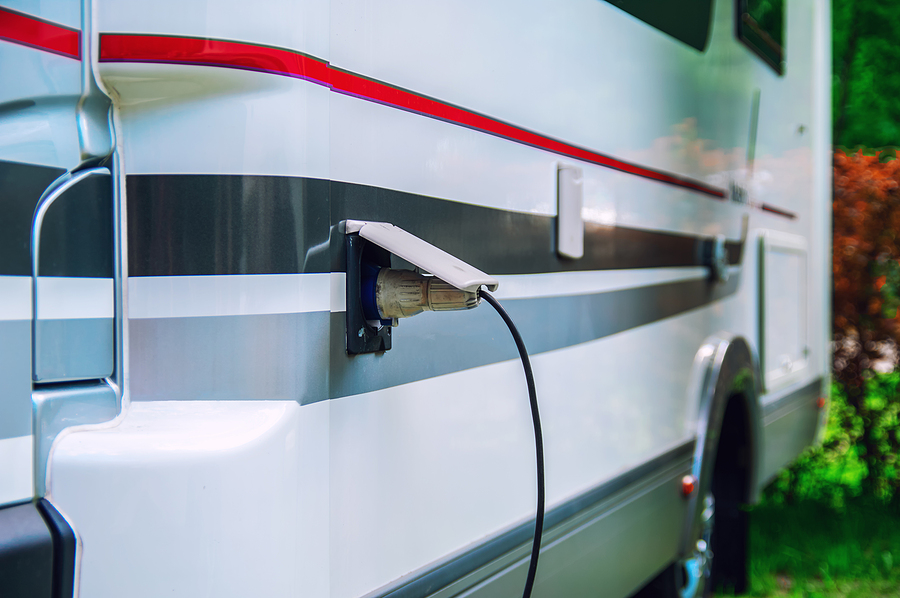 Just plug the micro USB cable into the AC adapter and then 110V outlet that shuts off if shore power is lost.
You will be able to receive an alert if Trakkit loses external line power from the USB power adapter.
The other benefit of line power via the USB plug is that the internal batteries are never used, so you don't have to worry about changing batteries.
See the Zedly owned brand, Trakkit site for additional features of the WiFi RV Temperature Monitoring system.
Also, if you're interested in all of these features and remote control of your RV AC Thermostat from your mobile phone, check out the article on our new RV WiFI Thermostat product.

*** Coming Soon!
Soon to be released in a firmware update, the ability for Trakkit THS to use Public Campground WiFi automatically, without the need to Configure it as a WiFi Profile.
---
Trakkit THS Specifications:
Wireless Temperature and Humidity Sensor with WiFi
Only one of its kind with integrated WiFi, no additional hub needed
32,000 Data Log Storage if WiFi not in range
Sampling and Logging Interval: 2 minutes
Uploading Data Interval: 2 minutes (Line power), 4 minutes (Battery)
Alerts for RV Temperature Monitoring & Status with a Mobile App
Can Run On USB Cable for Constant Power
Configurable 2, or 4 minute updates
Replaceable Batteries (2 x AAA Energizer Lithium)
Very Accurate, Factory Calibrated
0.35F (0.2C) Temperature Monitoring Accuracy
2% Humidity Monitoring Accuracy
Operating Temperature Range: -40F to 140F (-40C to 60C)
New Feature Upgrades via Firmware Update
Not Waterproof
---
Trakkit THS FAQs:
Are there Monthly Fees for the RV Temperature Monitor System
No, at this time there are No Monthly Fees for Trakkit THS.
Can Trakkit THS be used Outdoors
Yes. However, since it is not waterproof, you must keep it out of direct moisture/rain, direct sunlight, or other direct heat sources.
This will help you get the most accurate temperature readings.
---