Last Updated Aug 5, 2023
Are you constantly worrying about your recreational vehicle (RV) safety while exploring the great outdoors? You're not alone. RV security is a common concern among owners, with many seeking practical solutions to ensure their mobile homes are well-protected. In this comprehensive guide, we'll be diving deep into the world of RV security system solutions.
We will provide you with a list of our top recommendations, meticulously reviewed and compared by our techs at Zedly, which will help you make an informed decision. What's more? You'll also benefit from practical tips on maximizing these alarm systems' efficacy.
In this guide, expect a fresh perspective on securing your RV – beyond traditional locks and alarms. We promise to reveal some innovative security solutions you might have yet to consider.
So, buckle up and prepare for a journey toward enhancing your RV's security.
In a rush? Here's a quick preview of the RV security systems we covered:
At a Glance: Top 6 RV Security Systems
What is Included with an RV Security System?
Regarding RV security systems, several components can be used alone or together. The most common features include cameras, window and door sensors, motion sensors, sirens, lights, and alerts. Another valuable addition that many RV owners consider is an RV GPS Tracker, which allows you to monitor the real-time location of your RV at all times.
Cameras
Installing CCTV or solar-powered security cameras is one of the best ways to monitor your RV. These can monitor any suspicious activity inside or around the vehicle. You will also have a visual record of events, which you can easily access anytime via an app or web browser.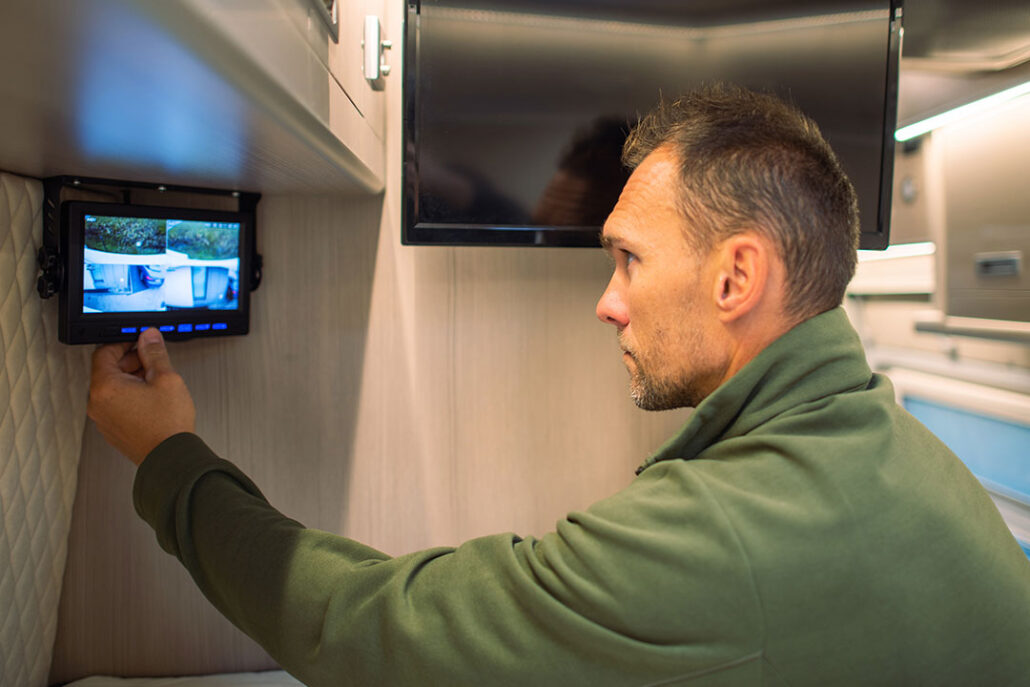 Sensors
Window and door sensors are also essential for RV security systems. They are usually used with an alarm, alerting you if someone tries to break into your RV.
Motion Sensors
Motion detectors can be strategically installed inside and outside the RV to detect any suspicious activity or movement effectively. Thieves who steal from campsites are usually going after bikes, grills, or anything else left outside. This becomes particularly advantageous when parked in areas with crime, ensuring enhanced security and peace of mind.
Sirens
A loud siren can deter intruders and notify you if something is amiss. Most security systems come with customizable sirens, allowing you to choose the volume based on your needs.
Lights
Motion-activated lights are a great addition to your RV security. Not only do they deter unwanted visitors, but they also illuminate the surroundings at night, creating a secure perimeter all around.
Alerts
RV security systems come with customizable alerts that can be sent via notification, text, or email. This is useful for monitoring your RV even when you're not there.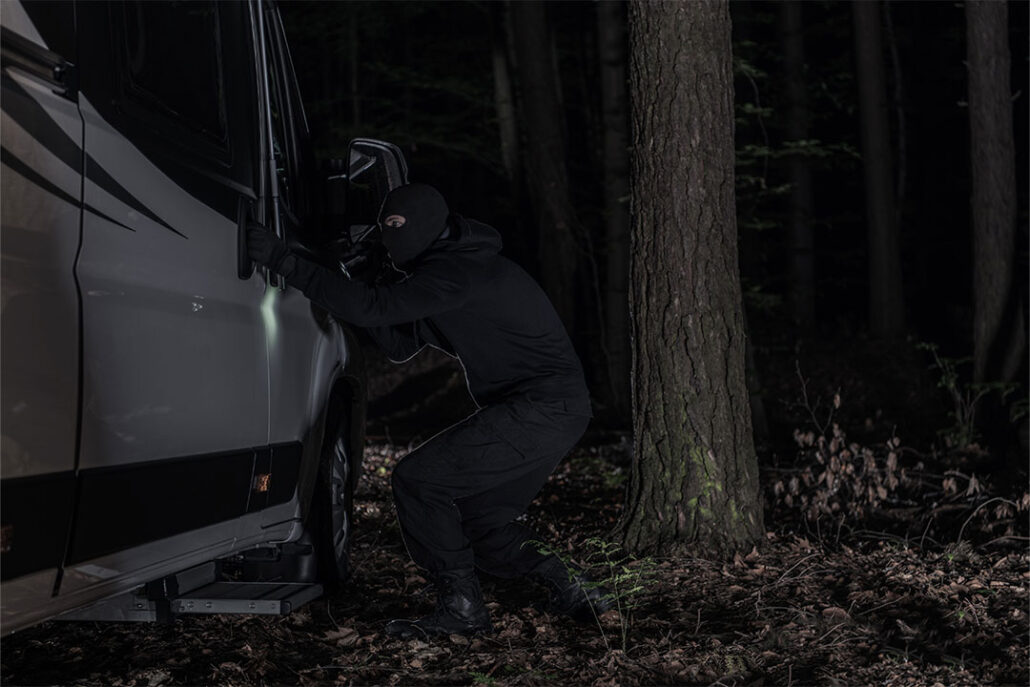 Other Tips
Most systems are designed to detect intrusions – such as burglary or theft – and alert you of any suspicious activity in real time. This allows you to take action as soon as possible, preventing potential damages or losses.
While focusing on security, it's also worth considering other safety aspects and alerts from your RV, such as monitoring tire pressure and temperature with an RV WiFi thermostat and RV tire pressure monitoring.
Now that we have explored the fundamental elements of RV security systems let us delve deeper into our top selections.
Our Top 6 Recommendations for RV Security Systems
We evaluated each security system and narrowed it down to six high-quality security solutions. Each system has unique features and benefits so that you can choose the best one for your RV.
SimpliSafe 7 Piece Outdoor Wireless Security System
Features & First Impressions:
SimpliSafe is a renowned name in the security industry, providing exceptional home security solutions. The 7 Piece Wireless Security System is an excellent choice for RVs, as it can be easily installed outside the RV and requires no tools. It comes with door and window sensors that alert when opened. Additionally, this system can be monitored 24/7 by professionals. It also has a 1080p HD camera with night vision for optimal protection.
Our first impression of this system is that it's reliable, easy to use, and performs well. Furthermore, it seamlessly integrates with Alexa and Google Assistant, empowering you to command your security system using your voice effortlessly.
Pros
Easy Installation
Comprehensive Coverage
24/7 Professional Monitoring
1080p HD Video with Night Vision
Dual WiFi & Cellular Connections
Cons
The subscription could add up
Performance & Overall Experience:
The performance of the SimpliSafe Wireless Security System was impressive, with its sensors and cameras functioning seamlessly to provide comprehensive coverage. Thanks to its night vision capability, the camera's 1080p resolution delivered crystal clear video, even in low-light conditions. The system maintained consistent connectivity with dual WiFi and cellular connections.
Overall, our experience with the SimpliSafe Wireless Security System was highly positive. The system is easy to set up and use and is backed by a one-year warranty for added peace of mind.
Tested Features:
Ease of Installation
Video Quality (1080p HD)
Night Vision
WiFi & Cellular Connections Reliability
Compatibility with Alexa and Google Assistant
Door and Window Sensors Functionality
Quality of Alerts and Notifications.
---
REOLINK ARGUS 2E+Solar Panel
Features & First Impressions:
The Reolink Argus 2E + Solar Panel is a formidable contender as the best RV security system. At $89.99, it offers much value for its cost, including a robust set of features such as a 3MP video resolution, night vision capabilities, and a lightweight, compact body that measures 8.53 x 6.25 x 6.37 inches and weighs a mere 0.51 lbs.
One of the standout features upon our first impression is its solar panel, providing non-stop power and reducing the necessity for constant battery changes. Equipped with IP65 waterproof technology, it promises to perform reliably under extreme weather conditions.
However, it's important to mention that it requires a stable WiFi connection to function at its best. The Reolink Argus 2E + Solar Panel is an impressive, cost-efficient solution for your RV security needs.
Pros
Solar-panel energy source
IP65 Waterproof
High-quality Video
Wide Viewing Angle
Time-lapse feature
Cons
Performance & Overall Experience:
In terms of performance, the Reolink Argus 2E + Solar Panel exceeded our expectations. The high-definition 3MP video resolution delivered clear and crisp visuals day or night, while the wide 120° viewing angle ensured comprehensive coverage of the surrounding area. The night vision worked flawlessly, providing clear images even in low-light conditions, and the motion detection feature proved to be accurate and responsive. The IP65 waterproof rating ensured its reliable operation even under adverse weather conditions.
A unique standout was the time-lapse feature, which provided an innovative way to review footage. The setup process was straightforward and user-friendly. However, it's worth noting that the device's dependence on a steady WiFi connection may pose a challenge in areas with unstable internet connectivity. Overall, the product offered exceptional functionality, durability, and affordability.
Tested Features:
High-definition 3MP Video Resolution
Night Vision Capabilities
120° Wide Viewing Angle
Motion Detection Feature
Time-lapse Functionality
Solar Panel Efficiency
Connectivity and Dependence on WiFi
---
ARLO PRO 4
Features & First Impressions:
The Arlo Pro 4 offers impressive features, making it a comprehensive security solution. Thanks to the Color Night Vision capabilities, its robust 2K HDR video resolution delivers clear and sharp footage, even in low light conditions. The 160-degree wide-angle lens provides a broad field of view, and the auto image correction significantly reduces the fisheye effect.
With built-in two-way audio and direct WiFi connectivity, you can easily communicate in real-time with visitors, while the integrated spotlight helps deter unwanted individuals. The intelligent, rv alarm system promptly sends notifications to your phone when motion is detected, enabling swift action. However, one potential inconvenience to note is the power source.
Unlike other models, the Arlo Pro 4 does not have solar panels, requiring regular battery changes to keep the camera operational. However, there are solar upgrades to this unit sold separately.
Pros
High-quality 2K HDR video resolution for sharp footage.
Color Night Vision ensures clear viewing in low-light conditions.
Auto image correction with a 160-degree wide-angle lens minimizes the fisheye effect.
Integrated two-way audio and direct WiFi connectivity for real-time communication.
The intelligent rv alarm system provides immediate notifications when motion is detected.
Cons
Requires regular battery changes
Performance & Overall Experience:
The performance of the Arlo Pro 4 was impressively reliable during our testing. Video footage was consistently sharp with vibrant colors during the day, and precise image quality was maintained during the night thanks to the Color Night Vision feature. The 2-way audio was clear, and the wireless system was seamless, allowing for uninterrupted live feeds and real-time communication. The alert system quickly responded to motion events, sending prompt notifications to our mobile devices.
Battery life was a concern, but regular charging kept the unit operational. Overall, our experience with the Arlo Pro 4 was positive, with the minor inconvenience of frequent battery changes being offset by this security camera's advanced features and stellar performance.
Tested Features:
2K HDR Video Resolution
Color Night Vision
Auto Image Correction
Two-Way Audio
Direct WiFi Connectivity
Smart Alert System
---
Y DIANS S Outdoor Solar Alarm Light
Features & First Impressions:
Y DIANS S Outdoor Solar RV alarm systems boast impressive features for an RV security system; our first impression of this product was overwhelmingly positive. Its key highlight is an efficient motion detector with a detection range of 4-6m and an angle of 120 degrees, which provides ample coverage for your camping area.
The rv alarm system has a high-intensity strobe light comprising 20 white and eight red LED lights, ensuring maximum visibility during triggered alarms. Additionally, the 129db siren is loud enough to deter any potential intruder. The remote control allows easy operation, while its high-efficiency solar power system promises reliable, eco-friendly energy. Furthermore, the device holds an IP55 waterproof rating, making it a durable choice for outdoor use. Our first impression of this device is of a product that combines utility, convenience, and robustness in an appealing package.
Pros
Efficient Motion Detection
High-Intensity Strobe Light
Powerful Siren
Solar-Powered
Waterproof
Cons
Performance & Overall Experience:
In terms of performance, the Y DIANS S Outdoor Solar Alarm Light stood apart with its consistently accurate motion detection. This alarm system effectively captured movements within its designated range, with the strobe light and siren reacting promptly upon detection. The brightness of the LED lights was impressive. The solar power system effectively harnessed sunlight during the day, keeping the device operational throughout the night. It withstood various weather conditions, validating its IP55 waterproof rating. The siren's loudness was notable, and the remote control ensured seamless operation.
Our overall experience with this product was highly satisfactory. The balance between simplicity, high performance, ease of use, and durability makes it a favorable choice for outdoor security. Despite lacking a camera, the Y DIANS S Outdoor Solar Alarm Light is a compact, efficient, reliable security solution. It is a product that blends functionality with environmental friendliness, making it a wise investment for any outdoor enthusiast.
Tested Features:
Motion Detection Efficiency
Strobe Light Intensity
Siren Loudness
Solar Power Efficiency
Waterproof Durability
Ease of Operation with Remote Control
---
REOLINK 4G LTE Cellular Security Camera
Features & First Impressions:
The Reolink 4G LTE Cellular Security System is the best rv security system. Its most striking feature is the wireless solar-powered design, making it an eco-friendly solution perfect for outdoor use. The camera offers precise 2K HD Night Vision and an intelligent person/vehicle detection feature, adding another layer of security.
Even in areas with no WiFi, its ability to use a SIM card ensures uninterrupted service. The camera also provides 7-Day Rolling Cloud History and an innovative time-lapse feature, allowing you to review and analyze past footage quickly. Furthermore, its robust waterproof build ensures durability in challenging weather conditions.
Our first impression of this camera is overwhelmingly positive; it exudes confidence with its sleek design and cutting-edge features, standing as a testament to Reolink's commitment to high-quality security solutions.
Pros
Solar-Powered and Wireless
2K HD Night Vision
Smart Detection
No WiFi Needed
Durable and Waterproof
Cons
Performance & Overall Experience:
The performance of the Reolink 4G LTE Cellular RV Security Camera has been spectacular. The pan and zoom features have heightened our user experience by delivering crisp and clear visuals both during the day and at night, thanks to the 2K HD Night Vision. The intelligent detection feature stands out, accurately and efficiently distinguishing between person and vehicle movement, sending prompt alerts. Operating without WiFi through a SIM card is a game-changer, ensuring constant surveillance.
Despite requiring a 4G data plan, the seamless experience and the benefits of the 7-day rolling cloud history and time-lapse feature justify it. The overall experience has been highly satisfactory, with the camera living up to its promise of providing durable and high-quality security.
Tested Features:
Wireless Solar-Powered functionality
2K HD Night Vision
SIM Card operation in the absence of WiFi
7-Day Rolling Cloud History and Time-Lapse feature
Pan and Zoom features
Durability and Waterproofing in various weather conditions
---
wsdcam Door & Window Alarm Systems
Features & First Impressions:
The webcam Door and Window Alarm brings an elegant simplicity to RV security. Powered by 2 AAA batteries, this device employs a magnetic trigger alarm system that sets off a 105dB alarm whenever a door or window is opened – a sound level more than capable of deterring potential intruders.
The device's design is discreet and fits seamlessly into any RV setup, with a refreshingly straightforward, easy peel-and-stick installation process.
Our initial impressions were markedly positive; we found this product to be a highly effective and incredibly user-friendly solution for those seeking to bolster their RV security conveniently and hassle-free.
Pros
Affordable
Simple installation
Powerful alarm
Compact design
Cons
Performance & Overall Experience:
In terms of performance, the webcam Door and Window Alarm excelled. Its compact size made it unnoticeable on our doors and windows, and the magnetically triggered alarm system proved highly sensitive and reliable. The 105dB alarm was noticeably piercing, offering a clear deterrent to anyone attempting unauthorized entry.
The simplicity of its peel-and-stick installation meant we had it set up and ready in minutes, and the absence of complicated instructions or unnecessary features made using it a breeze.
Overall, our experience with the webcam Alarm was overwhelmingly positive – providing a practical, straightforward, and affordable solution for RV security.
Tested Features:
Alarm Loudness
Sensitivity
Installation Process
Battery Life
Size and Design
---
RV Security System Installation and Set Up
Installing and setting up an RV security system like the ones reviewed above is relatively straightforward. Here is a step-by-step guide to help you through the process:
Camera Installation: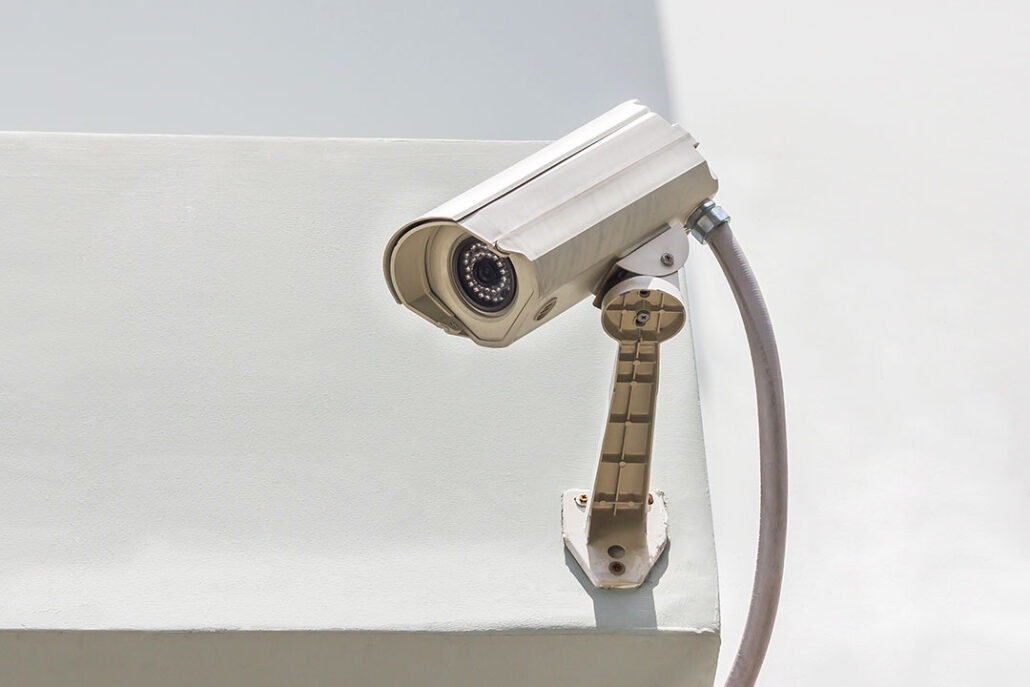 Find a suitable location for the camera that offers a wide, unobstructed view.
Secure the mounting bracket at the chosen area using screws.
Securely attach the camera to the mounting bracket and carefully adjust the viewing angle for optimal positioning.
Connect the camera to the power supply by plugging it into the solar panel (if applicable).
Insert the SIM card into the camera (if applicable).
Pair the camera with your mobile device using the manufacturer's app.
Door and Window Sensor Installation: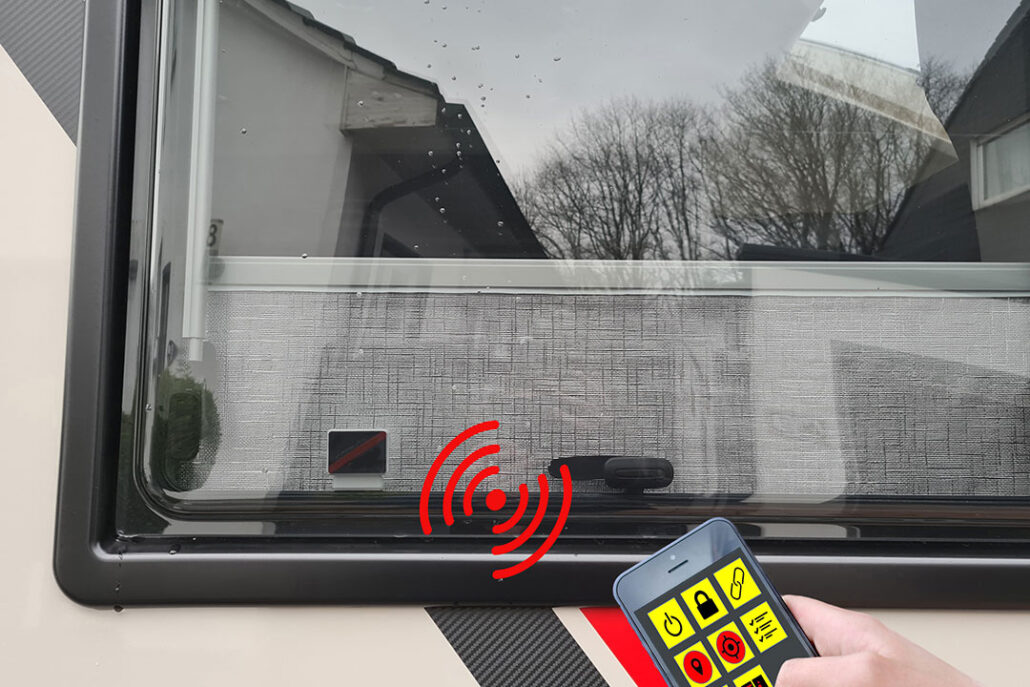 Choose the doors and windows you want to install the sensors.
Clean the surface area where the sensor will be attached.
Peel off the adhesive backing from the sensor and attach it to the door or window frame.
Peel off the adhesive backing from the magnetic strip and attach it to the door or window, ensuring it aligns with the sensor when the door or window is closed.
Other Important Tips
In case of an alarm system that needs a SIM card and there's no WiFi available, a mobile hotspot can be a handy accessory. This will provide you with an internet connection to set up and operate your security system.
Ensure that your alarm system has a dependable power source. Opting for solar-powered systems in RVs is a fantastic choice as they are environmentally friendly and do not drain your RV's battery. To achieve the best results, following the manufacturer's guidelines is imperative.
Most importantly, take your time during the setup process. Ensuring your RV security system is installed correctly will save you time and stress in the long run. It's worth putting in the effort upfront to enjoy a secure and worry-free travel experience.
After ensuring your RV's security, the next step to enhance your on-the-road experience would be to upgrade your RV entertainment systems. From stereo systems to surround sound, find the best options available to keep you entertained during your travels. Additionally, consider investing in RV generators to ensure you have a reliable power source wherever you go.
Conclusion
RV security is of utmost importance for a stress-free journey, and the six RV alarm systems we have reviewed here offer different solutions that cater to the needs of tech-savvy users looking for cutting-edge solutions and those who prefer simplicity.
Ultimately, while all these security solutions are reliable options, we would opt for the Reolink 4G LTE Cellular Security Camera for its advanced features and intuitive user experience. This system offers a comprehensive security package with reliable surveillance and protection against potential threats.
RV Security Frequently Asked Questions
What is the best security system for an RV?
The best security system for an RV will depend on your specific needs and budget. However, the Reolink 4G LTE Cellular Security Camera is an excellent option if you are looking for reliable surveillance and protection against potential threats. This system offers advanced features such as 2K HD Night Vision, time-lapse feature, pan and zoom, wireless solar-powered operation, durability, and Waterproofing.
Is a security system for an RV worth it?
A security system for an RV is worth it, as it can help you protect your RV from potential threats or unauthorized access. It will also provide peace of mind when you are away from your site, ensuring your belongings remain safe during your travels.
What do RVs use for WIFI?
RV owners can choose from various WiFi options, including Starlink, mobile hotspots, Jetpack devices, and satellite internet. Additionally, for those looking to monitor the interior conditions of their RV, considering a WiFi RV temperature monitoring system can be beneficial. Discovering the ideal fit that aligns with your budget and specific requirements is paramount when seeking the ultimate RV lifestyle.
When it comes to long-distance travel, Starlink is the go-to choice for reliability, while mobile hotspots offer greater flexibility for short trips. Selecting the right option ensures an excellent internet experience while you're on the road.