Updated Aug 10, 2023
If you're looking for a convenient and easy way to add reverse parking assistance to your car, truck, or RV, the best solution is to get a wireless backup camera for iPhone. With an iPhone-compatible wireless backup camera, you can instantly improve safety while maneuvering in narrow spaces!
For those who are also looking to level up their road trip experiences, our guide on RV stereo systems might be a good read.
This guide will provide an overview of five top wireless backup cameras compatible with iPhones on the market today – giving you all the information and advice needed before purchasing.
Read on to find out exactly what each product offers and which one may be the right fit for your vehicle.
Safety is paramount, so you might also be interested in RV security systems if you're an RV owner.
If you're in a hurry, check out our quick preview of what was reviewed below:
Best iPhone Backup Camera Preview
Why Trust Zedly?
Who We Are
Zedly is a trusted tech platform offering innovative and reliable technology solutions to enhance your everyday life. Our team comprises tech enthusiasts, industry experts, and passionate innovators, all dedicated to delivering state-of-the-art products and reviews to our readers.
For those diving deep into tech, you might find our article on 'how to activate an unlocked phone' useful.
Our Mission
Our mission at Zedly is to empower you with comprehensive, unbiased, and quality tech insights to help you make informed decisions. We believe in the power of technology to transform lives and thus aim to make it accessible and understandable for everyone.
Our Commitment to Quality Tech Solutions
At Zedly, we strive to bring you the best tech solutions by staying at the forefront of technological advancements. This includes ensuring your RV is in tip-top shape with essentials like aftermarket RV TPMS. We conduct in-depth research and testing, ensuring our recommendations are reliable, practical, and suitable for various needs and budgets.
And while on the topic of powering your vehicles, our guide on RV generators can provide valuable insights.
Now, let's delve into our reviews of the top 5 Backup Cameras for iPhone.
Top 5 Wireless Battery-Powered Backup Cameras for iPhones
An in-depth review of our top 5 selections of wireless, battery-powered backup cameras for iPhones, catering to various needs and budgets.
INSEETECH 720P Wireless iPhone Backup Camera
Features & First Impressions:
The INSEETECH 720P Wireless iPhone Backup Camera is a cutting-edge piece of technology packed with features, including a 90-day standby rechargeable battery, waterproof capability, and it can cover signals up to 197FT/60m without obstacles. Perfect for vehicles under 30ft, its solar-charging support is a unique and eco-friendly solution. A 3000mAh rechargeable battery provides up to 7 hours of continuous work time once fully charged. Its night vision reaching up to 17ft, supported by four infrared LEDs, also makes it a dependable companion for night drives.
Upon first impressions, the INSEETECH 720P Wireless iPhone Backup Camera proves to be a compelling investment. It boasts a hassle-free installation process, a welcome feature for most users. Moreover, the camera's ability to toggle between traditional power and solar charging and a strong battery life radiates reliability and convenience. The night vision feature is impressive, providing clear visibility in low-light conditions.
Overall, it's a well-rounded gadget that promises to enhance driving safety and convenience.
Pros
Ease of Installation
Flexible Charging Options
Long Battery Life
Night Vision
Waterproof
Cons
A bit pricier compared to other backup cameras on the market.
Performance & Overall Experience:
The performance of the INSEETECH 720P Wireless iPhone Backup Camera was top-notch during our usage. It delivered crisp, clear visuals in various lighting conditions, and its night vision function proved to be effective. The wireless connectivity was consistent, and we had no issues with signal interference. The battery life was impressive, lasting as advertised. Installation was a breeze, making it user-friendly even for those not tech-savvy.
Overall, our experience with this iPhone backup camera was excellent, and we found it to be a reliable and invaluable tool for safe and convenient driving.
Tested Features:
Video Resolution
iPhone / Android Phone compatibility
Night Vision
Wireless Connectivity
Battery Life
Ease of Installation
---
EWAY WiFi Backup Camera
Features & First Impressions:
The EWAY WiFi Backup Camera makes a solid first impression with robust features. It offers Standard Definition video capture resolution and night vision capabilities, powered by nine automatic infrared lights that provide up to 30ft of visibility, even in the darkest conditions. Interestingly, it boasts a wide transmission range with a 100ft digital wireless range, with no obstacles.
Although underwhelming, with a 6-hour lifespan, the built-in rechargeable lithium-ion battery is conveniently charged using a USB power cable.
Upon installation on our RV, the camera's compact size and lightweight design were noticeable, making it an unobtrusive addition. The camera's app, available on your smart phone app store, proved straightforward and easy to use, enhancing the overall experience.
Pros
Night Vision Capability
Wide Transmission Range
Lightweight Design
User-friendly Smart Phone App
USB Rechargeable
Cons
Shorter Battery Life than others on the market.
Performance & Overall Experience:
During our testing, the EWAY WiFi Backup Camera exhibited notable performance. The video quality, although only standard definition, was clear and sufficient for hitching trailers and ensuring safe reversing maneuvers. The night vision feature, supported by automatic infrared lights, proved effective in low-light conditions, offering excellent visibility.
Despite the relatively short battery life, the convenience of USB charging made it a manageable drawback. The camera interfaced seamlessly with our truck's tailgate, demonstrating easy attachment and detachment – a crucial characteristic for frequent hitching and unhitching. The user-friendly app further enhanced our experience, providing intuitive controls and easy accessibility right from our iPhone.
Overall, our experience with the EWAY WiFi Backup Camera was positive—a reliable ally for those needing a wireless solution for rear-facing cameras.
Tested Features:
Video Resolution
Night Vision
Wireless Connectivity
Battery Life
Ease of Installation
Usability on ios and Android device
Effectiveness of USB charging feature
Portability and Ease of Attachment/Detachment
---
YEOIZO Wireless Backup Camera for iPhone
Features & First Impressions:
The YEOIZO Wireless Back up Camera comes with a host of impressive features. Its wireless connectivity – propelled by a 5G WiFi module – notably allows for seamless real-time transmission of high-resolution (720p) video. It has a night vision function, ensuring clear visibility in low-light conditions.
The camera is easy to install thanks to the six-strong magnetic magnets, allowing for flexible attachment to any metal surface without the need for drilling. It houses a 1600mAh rechargeable battery, promising 4 to 7 hours of constant use.
Despite these exciting features, the camera's accompanying app leaves room for improvement, needing more development. Our initial impressions indicate that this camera offers reliable performance and convenience with minor drawbacks.
Pros
High-Resolution Video
Night Vision Capability
Easy Magnetic Installation
Durable Rechargeable Battery
Flexible Wireless Connectivity
Cons
Underwhelming Companion App
Short battery life
Performance & Overall Experience:
In terms of performance, the YEOIZO Wireless Back Up Camera exceeded our expectations. The high-resolution video ensured clear and detailed imaging in varying light conditions. The magnetic installation was a breeze, and the camera stayed firmly in place, even on rough terrains.
Although the free app left something to be desired, it did not significantly impede the camera's functionality. With a robust rechargeable battery providing satisfactory operating hours, our overall experience was largely positive, reaffirming the product's potential as a reliable choice for your back up camera needs.
Tested Features:
5G WiFi Connectivity
High-Resolution Video
Magnetic Installation
Battery Life
Joytrip free App
---
LASTBUS WiFi Camera for iPhone
Features & First Impression:
The LASTBUS Wireless Backup Camera boasts a plethora of high-end features that are impressive for its price point. Notably, it's equipped with a massive 9600mAh built-in rechargeable lithium-ion battery, ensuring a long service life of 10-12 hours. The camera is certified with an IP69 rating, indicating its waterproof capability and robust design to endure even the harshest of weather conditions. It also features low-light capabilities, allowing for clear and crisp imaging even in low-light scenarios. The wireless connection is reliable, and the picture quality is commendably robust. However, the tilt angle is limited and could benefit from more flexibility.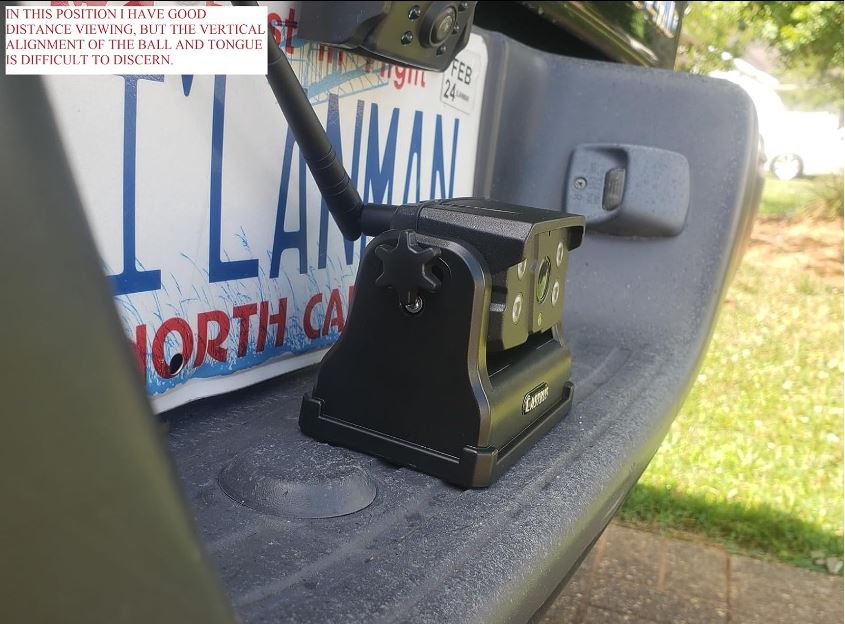 Our first impressions of this device are overwhelmingly positive. The magnetic base is particularly appreciated, facilitating easy placement on your camper or truck in numerous locations. Despite its modest price tag, the video quality is incredibly sharp, a standout feature. Overall, the LASTBUS Wireless Backup Camera delivers remarkable value for money, proving that quality doesn't always have to come with a hefty price tag.
Pros
Long-lasting Battery
Waterproof (IP69)
Exceptional Nightime Vision
Reliable Wireless Connectivity
High-quality Imaging
Cons
Performance & Overall Experience:
In terms of performance, the LASTBUS Wireless Backup Camera excels. The long-lasting battery ensures uninterrupted usage for extended periods, while the IP69 waterproof rating attests to its durability in adverse weather conditions. The superb night-time vision feature guarantees precise imaging in low-light situations, making it a reliable tool for safe driving. The wireless connectivity is consistent and robust, ensuring a seamless experience without lag or disruption. Despite the somewhat restricted tilt angle, the magnetic base allows for creative placement, adding a layer of versatility to the gadget.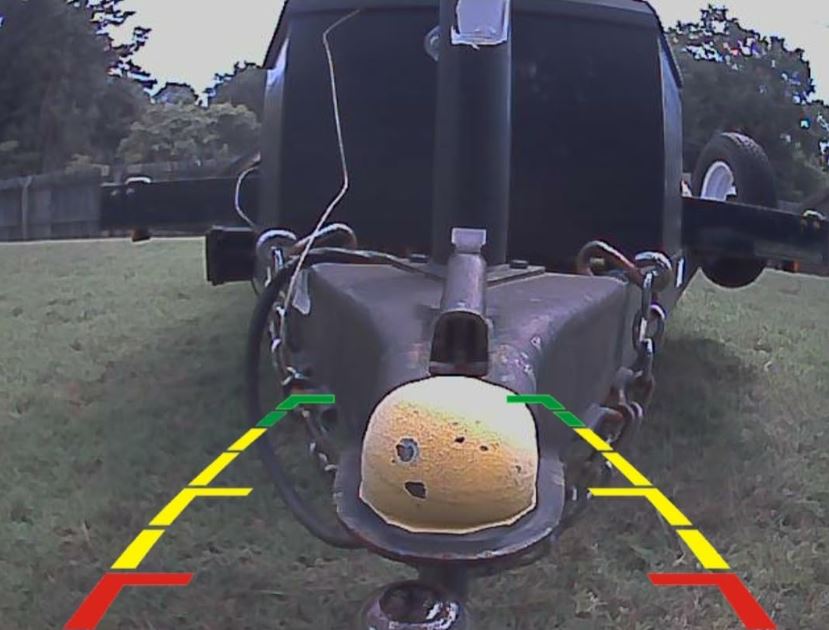 Our overall experience with the LASTBUS Wireless Backup Camera has been highly satisfactory. The device's noteworthy video quality, especially considering its price point, has impressed us thoroughly. The ease of moving it around due to the magnetic base has been a game-changer, making it adaptable to different situations and environments. The minimal cons do little to detract from the device's overall worth, reinforcing our view that it provides an exceptional value-for-money proposition.
Tested Features:
Battery Life
Water Resistance
Wireless Connectivity
Image Quality
Tilt Angle
Magnetic Base Placement
---
MHCABSR Wireless Backup Camera
Features & First Impressions:
The MHCABSR Wireless Backup Camera has a wide-angle lens offering an absolute angle of view of 120 degrees, providing ample visual coverage for all your parking needs. The camera utilizes a dedicated APP, "Safetyeye," available in the Apple Store, facilitating user-friendly interaction and control.
One of the standout features is its powerful 2100MAh battery, ensuring an impressive 12 hours of uninterrupted operation. Additionally, it boasts a remarkable IR night vision function with a range of up to 15 meters, enhancing your visibility during nighttime parking. The camera also features guidelines for accurate parking.
Our first impressions of this device are overwhelmingly positive. It is robust, compact, and easy to install. The user interface on the APP is intuitive, making it a user-friendly device even for those who aren't tech-savvy. It offers an unmatched balance of functionality and affordability in its category.
Pros
Wide-angle coverage
User-friendly app
Long battery life
Impressive night vision
Guidelines feature
Cons
Performance & Overall Experience:
In terms of performance, the MHCABSR Wireless Backup Camera exceeds expectations. Despite its 480p resolution, the camera provides clear and crisp visuals, ensuring you can easily navigate even the trickiest of parking scenarios. The wide-angle view with guidelines features offers a comprehensive perspective, making parking effortless. Operating on a robust 2100MAh battery, the camera proves its reliability and endurance by working consistently for 12 hours.
Our overall experience with the MHCABSR Wireless Backup Camera was highly satisfying. The installation process was straightforward, and the "Safety Eye" app's user-friendly interface allowed uncomplicated operation. The device's night vision capability ensured safe parking even in minimal light conditions. Despite the lower resolution, the video quality was more than satisfactory, making it an excellent choice for anyone seeking a reliable, cost-effective parking solution.
Tested Features:
Wide-angle Coverage
"Safetyeye" App Interface
Battery Life
Night Vision Functionality
Guideline Feature
---
What to Consider When Buying a Backup Camera for Your Smart Phone Device
A handy guide to factors you should consider when picking the right backup camera for your vehicle.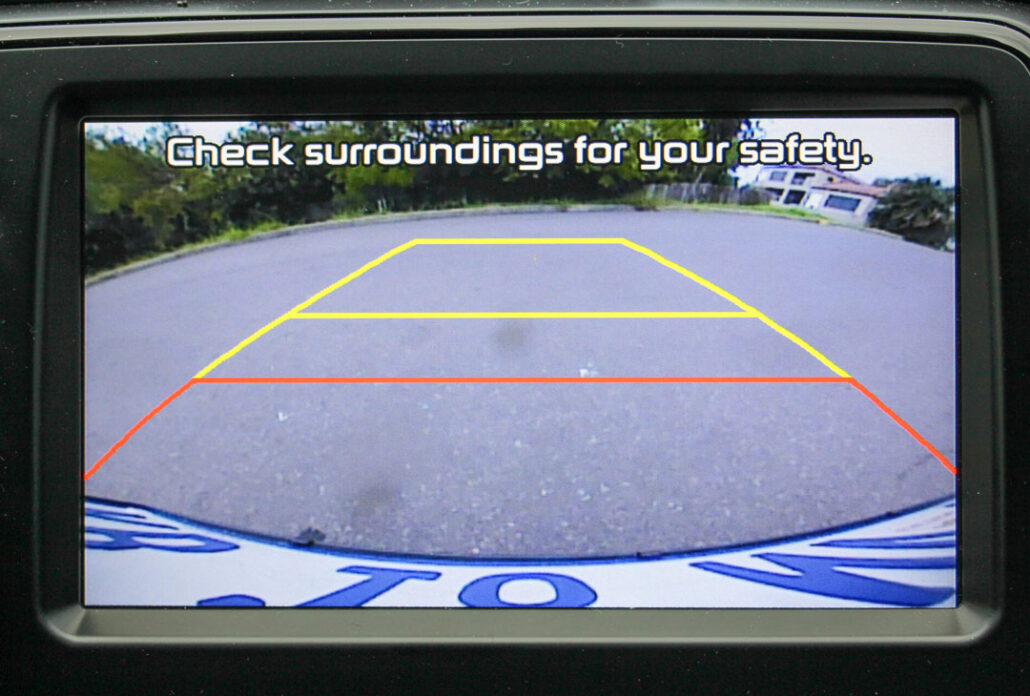 Image/Video Quality:
High-resolution images can help you see every detail clearly when backing up your vehicle. A camera with a poor image or video quality might not provide the level of detail necessary for safe maneuvering.
Angel of View
The angle of view is the amount of a given scene that can be seen through a camera lens. It is measured in degrees and is determined by the focal length of the lens used to take a photo.
Low-Light Performance:
A backup camera with excellent low-light performance is crucial for those early-morning departures or late-night arrivals. Some cameras come equipped with infrared or night vision capabilities.
Installation Process:
Take into account the ease or complexity of installing the backup camera. Certain models might necessitate professional installation, while others can be easily set up in less than 10 minutes.
Wireless Connectivity:
Since you're specifically looking for a wireless backup camera for your iPhone, ensure it offers robust wireless connectivity. Some cameras might have issues with signal interference. Read reviews that mention range.
Price Point:
Take a moment to ponder the price of the backup camera and its compatibility with your budget. With a plethora of choices available, it's imperative to locate one that not only meets your desired specifications but also aligns with your financial comfort.
Keep in mind that the optimal wireless backup camera for you will vary based on your individual requirements and circumstances. Consideration of these factors is crucial to make the best choice that meets your needs effectively.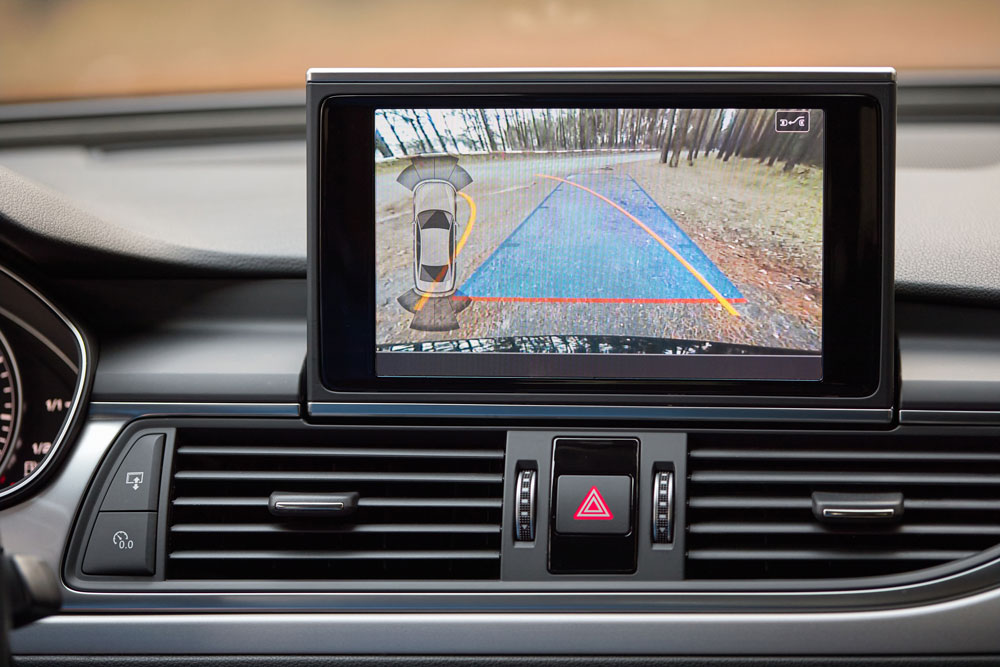 Conclusion
In conclusion, a wireless backup camera for your iPhone can drastically simplify parking and reversing tasks, improving safety and boosting your confidence on the road. And for those always on the move, an RV temperature monitor can help in maintaining the desired climate inside your vehicle.
While we have listed some top-notch options, we especially recommend the INSEETECH 720P Wireless Backup Camera for its excellent image quality and easy setup. However, your final choice should align with your needs, vehicle specifications, and budget.
Always check for essential features such as image quality, low-light performance, ease of installation, and consistent wireless connectivity. And if you're looking for added security, a trailer hitch lock is a significant addition.
Remember, technology is meant to simplify your life – so choose wisely, and if you're aiming for a comfortable climate inside your RV, the Smart RV WiFi Thermostat might be worth checking out.
Backup Camera Frequently Asked Questions
Do wireless backup cameras really work?
Yes, wireless backup cameras do work. They are considered a good choice for many due to their lower cost and overall ease of installation. Some models offer a digital signal, which is generally reliable but can occasionally encounter issues.
Will a WiFi camera for backing up work with your iPhone?
Yes, an iPhone can effortlessly synchronize with a WiFi camera designed for backing up. The camera establishes a connection with your device through WiFi, enabling you to conveniently observe a real-time feed from the camera on your iPhone's screen. This functionality ensures both safety and convenience when maneuvering your vehicle in reverse or during parking.
Can you hook a backup camera to an iPad?
Yes, you can hook up a backup camera to an iPad. All you need is a Wireless battery-powered backup camera and the app on your iPad. They are highly convenient and provide safety and convenience when reversing or parking your vehicle.
What is the easiest backup camera to install on a car?
The easiest backup cameras to install are those with a magnetic base, allowing you to mount them anywhere metal on your car. They offer the ultimate convenience and flexibility due to their plug & play nature. Furthermore, they are also easy to remove and transfer from one vehicle to another if needed.
Can you install a backup camera in a car that does not have one?
Yes! Installing a backup camera in a car that does not have one is possible. There are several models available specifically designed for cars without pre-installed cameras, so you can feel confident knowing that you don't need to be an expert mechanic or hire someone else to do the job. Most of the time, all it takes is about 10 minutes of your time and some simple tools to get the job done.